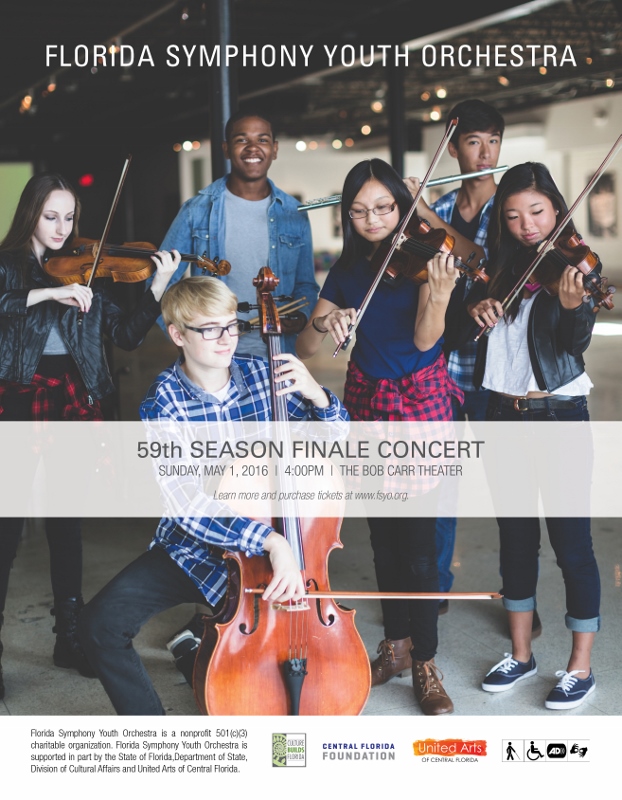 Wrapping up its 59th season, the Florida Symphony Youth Orchestra will celebrate another year of musical excellence with its finale concert at the Bob Carr Theater on Sunday, May 1st 2016. All four orchestras in the organization will be featured, as they perform works from such composers such as Dvorak, Stravinsky and Kalinnikov. In addition, John Horzen will perform his concerto by composer Aram Khachaturian with the Symphonic orchestra. Over 35 graduating seniors will be recognized at the concert as they leave the orchestra to reach newer heights as musicians and individuals. The orchestra will be hosting a silent auction during the event, consisting of gift baskets full of items donated by businesses in the local community. The concert will begin at 4:00 PM. Tickets are available through the FSYO website (www.fsyo.org), and range from $8 to $20. As usual, teachers receive free admission to this and all FSYO events!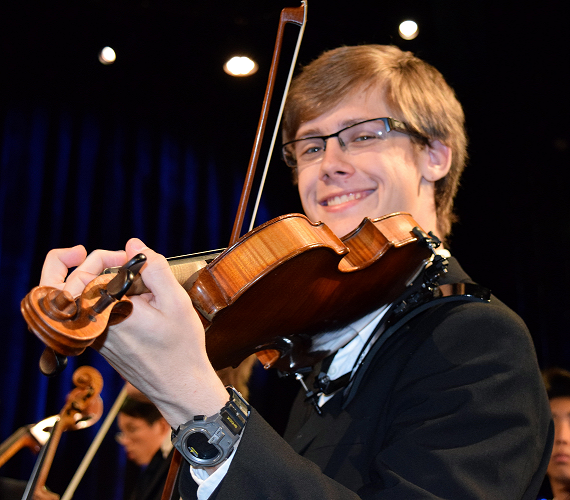 ABOUT: John Horzen is a senior in the Cypress Creek High School International Baccalaureate Program. Balancing academics with his music, he has been concertmaster of the CCHS orchestra for four years. He was also concertmaster of the award-winning pit orchestra for the CCHS productions of Miss Saigon and Beauty and the Beast. John has been an Orange County All-County participant for six years and and a Florida All-State performer for five. Now in his tenth season with FSYO, he is the associate concertmaster of the Symphonic Orchestra. John has spent five fantastic years studying violin with Dr. Lev Gurevich. He started playing violin with Susan Gray McCoy at the age of four.
At the Brevard Summer Music Festival, John has twice been associate concertmaster under conductors Keith Lockhart (Boston Pops) and Ken Lam (Charleston Symphony). While at Brevard, John studied violin with Atlanta Symphony second violinist (and FSYO alumnus) Jay Christy, and Professor Carolyn Huebl (Vanderbilt University). For two years running, John's string quartet represented the Brevard high school program for the Shanghai Quartet master class. This past summer, John was one of only two high school students selected to perform for the college master class with Noah Bendix-Balgley, First Concertmaster of the Berlin Philharmonic.
In October, John participated in the National Honors Ensemble Orchestra in Nashville, Tennessee. He served as third chair, second violin for the ensemble's final performance at the Grand Ole Opry under the baton of Maestro Jung Ho. John is proud to have twice been a finalist for the Bach Festival Young Artist Competition and a first prize winner for concerto in Florida regional competition. He is a two-time winner of the FSYO Concerto Competition. John will be attending Vanderbilt University in the fall, planning to double-major in Violin Performance and Computer Science.
ABOUT: The Florida Symphony Youth Orchestra aims to educate and inspire Florida's top young musicians through programs committed to strengthening musical talents and developing appreciation of the arts through classical music. The FSYO, in its 59th Concert Season, comprises three full orchestras and one string training orchestra made up of more than 250 students from eight Central Florida counties.
Programs are sponsored in part by the Florida Department of State, Division of Cultural Affairs; the Florida Council on Arts and Culture;and United Arts of Central Florida. The FSYO is a non-profit 501(c)(3) charitable organization. For more information, please visit www.fsyo.org | facebook.com/THEFSYO |@fsyo (twitter) | @f_s_y_o (instagram) | youtube.com/fsyo