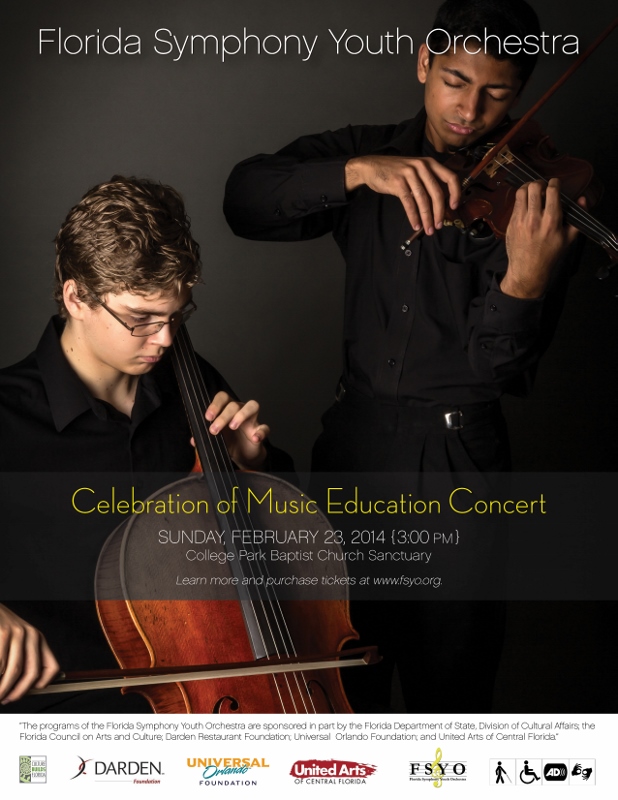 For Immediate Release
February 12, 2014
FSYO to Host Their Annual Music Education Celebration Concert
ORLANDO, Fla. – On February 23, 2014, the Florida Symphony Youth Orchestra will present their annual Celebration of Music Education Concert. This special concert event will feature performances from three of the organization's orchestras and will honor music educators throughout the Central Florida area for their passion and dedication to fostering a love for music in students.
As numerous studies indicate, music enhances the process of learning. Proven developmental benefits of music education include higher IQs, improved test scores, and increased language development, transcending the traditional ideas of just being 'musical.' According to Laura Lewis Brown, writer for the Public Broadcasting Service, "learning the do-re-mis can help children excel in ways beyond the basic ABCs."
FSYO would like to recognize music educators for the life changing work they do every day. Their devotion imparts an invaluable experience in the lives of their students and enhances the level at which organizations, like FSYO, can perform. By acknowledging and celebrating the key role music education plays in the lives of youths, the audience can experience and appreciate the merits of the players and the educators that have inspired them.
The Celebration of Music Education Concert will take place at 3:00 p.m. on Sunday, February 23, 2014 at the College Park Baptist Church, 1914 Edgewater Drive, Orlando, FL 32804. Open to the public, ticket prices range from $8 to $16 and can be purchased through the FSYO website (www.fsyo.org). This concert is part of the Season Subscription Package. As always, teachers receive free admission to this and all FSYO concerts.
About FSYO: The Florida Symphony Youth Orchestra aims to educate and inspire Central Florida's top young musicians via programs committed to strengthening musical talents and developing appreciation of the arts through classical music. The FSYO, in its 57th Concert Season, comprises three full orchestras, one string training orchestra and various chamber groups, made up of more than 250 students from eight Central Florida counties, including Orange, Osceola, Lee, Seminole, Brevard, Lake, Highlands and Volusia. Programs are sponsored in part by the Florida Department of State, Division of Cultural Affairs; the Florida Council on Arts and Culture; Darden Restaurant Foundation; Universal Orlando Foundation; and United Arts of Central Florida. We thank these groups for their generous support. The FSYO is a non-profit 501(c)(3) charitable organization. For more information, please visit www.fsyo.org.