FSYO Announces New Music Director Hanrich Claassen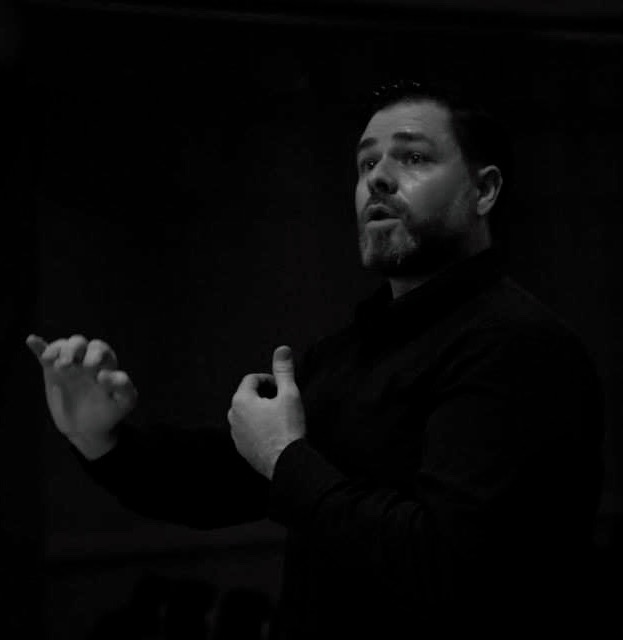 The Florida Symphony Youth Orchestra has appointed cellist, conductor, and educator Hanrich Claassen as the new music director and conductor of the Symphonic Orchestra for our upcoming 2016-2017 season.
"I immediately fell in love with the passionate, energetic young musicians' joyous approach to music making and I look forward to exploring a wide variety of repertoire and projects with this vibrant organization. Together with our wonderful artistic and executive team, I am excited to cultivate innovative programs and initiatives to make our organization even more visible and expand the love of music within our community." – Hanrich Claassen
An international performing cellist and pianist, as well as conductor, Mr. Claassen musically began at the University of the Free State in South Africa, earning a Bachelor's in Music with cello and piano. Continuing his cello studies, Claassen obtained a Music Honours degree and his Master's degree in chamber music at the University of Stellenbosch. Mr. Claassen then finished his Teaching Licentiate at the University of South Africa with distinction, and continuing his cello study in 2003 in Portugal.
"We are absolutely delighted to have Mr. Claassen joining the FSYO and very much look forward to his input and vision for the organization. We have no doubt that Hanrich will draw on his diverse musical background to bring new strengths to FSYO and the Symphonic Orchestra. He clearly bonded with the students during rehearsal and I believe the students are looking forward to working with him" – Stephen Schenck, Board President
Mr. Matthew Davis will continue to act as the interim music director and the conductor for the Symphonic Orchestra until the completion of the 2015-2016 season.
ABOUT: The Florida Symphony Youth Orchestra aims to educate and inspire Florida's top young musicians through programs committed to strengthening musical talents and developing appreciation of the arts through classical music. The FSYO, in its 59th Concert Season, comprises three full orchestras and one string training orchestra made up of more than 250 students from eight Central Florida counties.
Programs are sponsored in part by the Florida Department of State, Division of Cultural Affairs; the Florida Council on Arts and Culture; Darden Restaurant Foundation; Universal Orlando Foundation; The Central Florida Foundation and United Arts of Central Florida. The FSYO is a non-profit 501(c)(3) charitable organization. For more information, please visit www.fsyo.org |facebook.com/THEFSYO | @fsyo (twitter) | @f_s_y_o (instagram) | youtube.com/fsyo
About Hanrich Claassen: Hanrich Claassen is a passionate cellist, conductor and educator who believes that a balance between educating and performing music is the key to true artistic enlightenment.
Mr. Claassen obtained his Bachelor of Music in both piano and cello at the University of the Free State in South Africa. He furthered his cello studies at the University of Stellenbosch, where he completed both a Music Honours Degree and his Master's Degree in Chamber Music. Mr. Claassen was awarded the Teacher's Licentiate from the University of South Africa with distinction before furthering his cello studies in Portugal in 2003 at the Escola Superior de Artes Aplicadas.
During the course of his studies, Mr. Claassen received numerous awards and merit scholarships in South Africa. He is a previous gold medalist of the Free State Music Society Scholarship Competition, as well as the Free State Orchestra Instrument Competition. In August 2001 he was the overall winner of the Huguenot Music Society Prize Competition in Stellenbosch. Mr. Claassen was a semi-finalist in the 2002 UNISA String competition and in the same year was runner-up during the UNISA Overseas Scholarship Competition. Mr. Claassen was awarded the bronze medal during the 2010 Len van Zyl Conducting Competition in Cape Town after his direction of the Cape Philharmonic Orchestra. More recently, Mr. Claassen was semi-finalist in the prestigious 5th Edition of the Blue Danube International Opera Conducting Competition 2013 with the Bulgarian State Opera Ruse (Rousse).
Mr. Claassen was extensively involved in performing arts while growing up in Windhoek, Namibia and Bloemfontein, South Africa. He performed as cello and piano soloist with the Johannesburg Symphony Orchestra, Performing Arts Council of the Free State Symphony Orchestra and with the KwaZulu Natal Philharmonic Orchestra. He has attended master classes in South Africa, as well as in Austria, Switzerland, Portugal, and Brazil from Anton Nel, Martino Tirimo, Alexander Ivashkin, Borislav Strulev, Antonio Meneses, Radu Adelescu, Heidi Litschauer, Xenia Jankovich and the Jerusalem String Quartet, Victor Yampolsky, amongst others.
As a professional cellist, Mr. Claassen has been a member of various philharmonic and chamber orchestras in South Africa, Portugal, Bahrain and China. During Mr. Claassen's stay in Shanghai he was the Assistant Music Director, cellist and conductor for the Shanghai Baroque Chamber Orchestra. Other notable conducting opportunities have taken Mr. Claassen to the National Theatre of Windhoek, Namibia; the Cincinnati Conservatory of Music Spoleto Festival, Italy and last summer to Varna, Plovdiv and Stara Zagora, Bulgaria as assistant to Maestro Dian Tchobonov for Varna International's Le Nozze di Figaro. Mr. Claassen has been guest clinician and conductor at various orchestra festivals for the Association for Music in International Schools (AMIS) and the Asian Pacific Activities Conference (APAC). As chamber musician he has worked in Japan, China, Austria, Switzerland, Portugal, Brazil, Saudi Arabia, Bahrain and South Africa.
2004-2007 Mr. Claassen spent in Saudi Arabia as Coordinator of Performing Arts at the British International School of Al Khobar. Since 2007 he served as String Orchestra Director and Head of Middle School Fine Arts at the Shanghai American School, Pudong Campus. There he conducted four string orchestras and the SAS MS symphony orchestra. Mr. Claassen relocated to Vienna, Austria in June 2013 as the Middle and High School String Orchestra Director for the American International School Performing Arts team.
Mr. Claassen recently joined Montverde Academy, Florida as Instrumental Music Teacher and Lower Strings Specialist in the newly established Montverde Academy Conservatory. He is one of the founding board members and festival conductor for Youth Music Adventure, an adventure string orchestra summer camp in Fiesch, Switzerland that will launch in July 2016.