FSYO Host 60th Season Opener, featured artist Eric Jacobsen
FSYO to Host 60th Season Opener on October 9th
Featuring Eric Jacobsen, cellist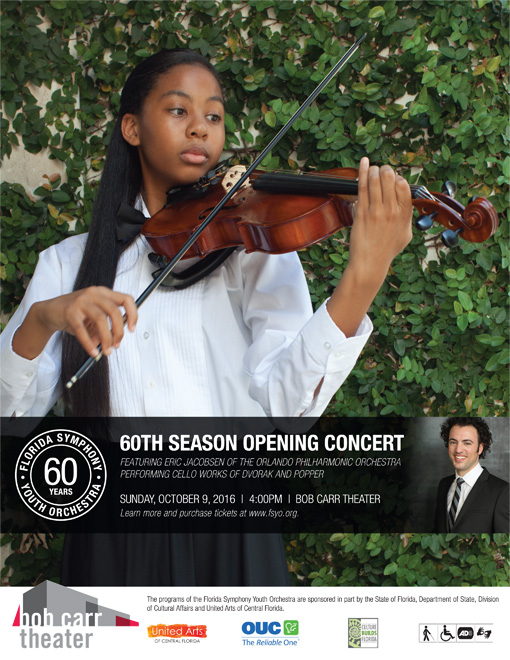 ORLANDO, FL – On Sunday, October 9, 2016 at 4:00 pm, the Florida Symphony Youth Orchestra will dazzle the public with the first concert of their 60th Anniversary season at the historic Bob Carr Theater. Featured guest artist - Orlando Philharmonic Orchestra Music Director and remarkable cellist, Eric Jacobsen - will perform Dvorak's Silent Wood and Popper's Hungarian Fantasie accompanied by the FSYO Symphonic Orchestra.
Joining the Central Florida arts community in 2015, Jacobsen has honed his musical skills as a conductor and cellist, nationally and internationally. His style melds the classical with the contemporary in seamless fashion, performing in and directing innovative groups such as The Knights and Brooklyn Rider. Jacobsen has collaborated with such greats as Yo-Yo Ma, Itzhak Perlman, and Susan Graham at venues ranging from Carnegie Hall to the Ojai Music Festivalin, and on October 9th, he will join us at Bob Carr Theater for his first performance with the FSYO.
This concert will also be the first Season Opener for new FSYO Music Director and Symphonic Orchestra conductor, Hanrich Claassen. When asked about this concert, he said, "The FSYO is a family of some of the most talented and hardworking young orchestra instrumentalists and staff Central Florida has to offer. The artistic team and I have been enthusiastically preparing our four orchestras to inspire and wow audience members at our opening concert. I promise we will not disappoint - it will be a festive celebration of our 60th Season!"
Having performed and conducted internationally, Claassen brings new interpretations and ideas that are helping the students reach new heights as an ensemble. He is also bringing a fresh look to our season programming, which will now feature exciting collaborations and several new concert experiences, including some outdoor performances for the community to enjoy.
Tickets to this concert, and to all 60th season performances, can be purchased on the FSYO website (www.fsyo.org) and at the door. Ticket prices for this concert range from $10 to $20. This is one that you do not want to miss!
About FSYO: The Florida Symphony Youth Orchestra aims to educate and inspire Central Florida's top young musicians through programs committed to strengthening musical talents and developing appreciation of the arts through classical music. The FSYO, in its 60th Concert Season, comprises three full orchestras, one string training orchestra and an advanced chamber ensemble, made up of more than 250 students from nine Central Florida counties, including Orange, Osceola, Lee, Seminole, Brevard, Lake, Highlands and Volusia. Programs are sponsored in part by the Florida Department of State, Division of Cultural Affairs; the Florida Council on Arts and Culture; Orlando Utilities Commission; and United Arts of Central Florida. We thank these groups for their generous support.
Learn more: web: www.fsyo.org | FB: Florida Symphony Youth Orchestra | Twitter: @FSYO | IG: @F_S_Y_O | Youtube: @fsyo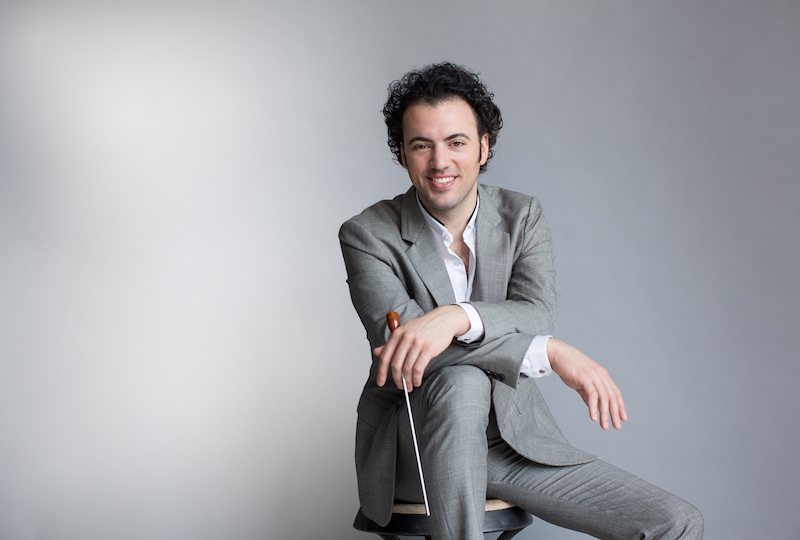 About Eric Jacobsen: Hailed by The New York Times as "an interpretive dynamo," conductor and cellist ERIC JACOBSEN has built a reputation for engaging audiences with innovative and collaborative projects. Following an international search, Eric Jacobsen was appointed Music Director of the Orlando Philharmonic Orchestra in the 2015-2016 Season.
Jacobsen is the co-founder and Music Director of the adventurous orchestra The Knights. As Music Director, Jacobsen has led the "consistently inventive, infectiously engaged indie ensemble" (The New York Times) at venues ranging from Carnegie Hall to the Ojai Music Festival, and international hot spots such as the Dresden Musikfestspiele and Cologne Philharmonie. Recent collaborators include cellists Yo-Yo Ma and Jan Vogler, violinists Itzhak Perlman and Gil Shaham, and singers Dawn Upshaw and Susan Graham.
A dedicated chamber musician, Jacobsen is a member of Yo-Yo Ma's venerated Silk Road Project. He has participated in residencies and performances in Azerbaijan, China, Hong Kong, Japan, Malaysia, Switzerland and across the USA including The Art Institute of Chicago and The Hollywood Bowl.
Jacobsen is also a founding member of the genre-defying string quartet Brooklyn Rider, dubbed "one of the wonders of contemporary music" (Los Angeles Times). After 10 years with Brooklyn Rider, Mr. Jacobsen stepped away from the group to focus on his passion for conducting and the orchestra.
As a cellist, Jacobsen has performed with Renee Fleming on David Letterman and at the inaugural concert at Zankel Hall at Carnegie. He has also appeared with The Silk Road Ensemble at the opening ceremonies of the Special Olympics in Shanghai. (for more on Eric Jacobsen visit http://www.jacobseneric.com/)