Day in the Life featuring - Miya Luebke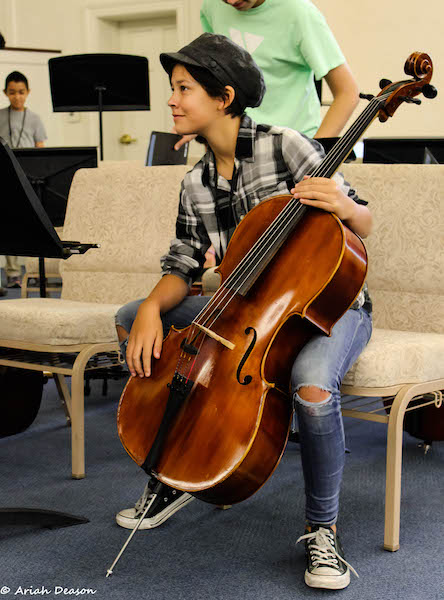 This month we interviewed Prelude cellist , Miya Luebke.
How long have you been in FSYO? What made you want to join?
As of now, I am going into my 2nd season with the FSYO and currently the assistant principal cellist in the Prelude orchestra. I heard countless positive things about FSYO, and there were numerous reason why I wanted to join. My biggest influence was my violinist friend and fellow member Maggie Yuan who (in a nice way) forced me to audition. Also I really wanted to challenge myself and improve myself as a musician and a person, as well as meet and learn from other fantastic musicians.
What was your favorite memory from FSYO?
I have almost too many favorite memories to count! If i had to choose one though, I would say my first rehearsal. When I walked in, I saw and met so many incredible musicians from all the orchestras, and became deeply inspired to become just as incredible as them one day. Everyone there shows so much passion for music and the works that will be performed, it's absolutely incredible! I made so many friends from just that first day, and hope to play with them until we graduate.
What do you do when you're not rehearsing?
When I'm not doing anything music related, I'm usually acting like some form of nerd. I'm an avid Bob's Burgers and Doctor Who fan, and I try to get as much merchandise as I can. I adore the Lord of the Rings and Harry Potter series, as well as classic works of literature like Don Quixote and The Odyssey. Literature is something I find very fascinating, and being able to read the mind and creativity of the author is the best. As well as those things, I'm truly fascinated by history, geography, and linguistics, and I even attended the State Level National Geographic Geography Bee in 2014.
What's one thing that you would like to change in the world?
If I could change one thing in this world, I'd get rid of all kinds of prejudice. I'd change the fact that someone's life and value are almost solely based on their race, gender, nationality, sexuality, and other things that cannot be controlled. Sadly, there is so much pressure in our society to be and act the same, or in some cases "perfect". Today's prejudice wouldn't exist if we only accepted our differences, instead of trying to be the same. Music can unify us and help us defeat prejudice, because music is one of the few things that will never believe in prejudice.