FSYO to Host 60th Season Finale Concert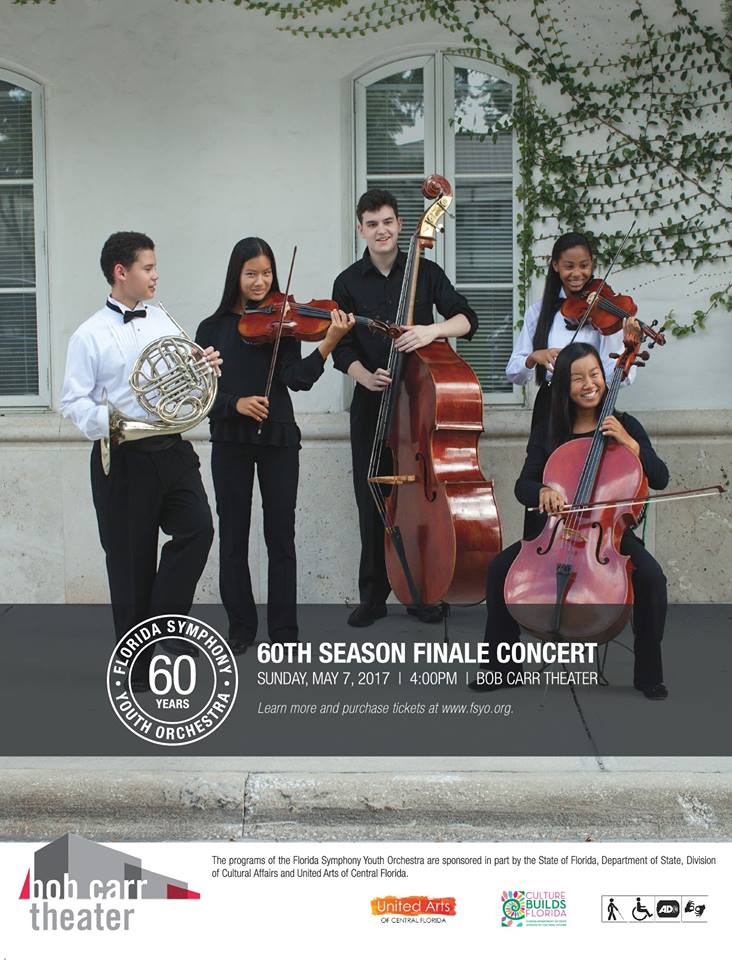 ORLANDO, FL - The Florida Symphony Youth Orchestra will wrap up its exciting 60th anniversary season with its Season Finale Concert at the Bob Carr Theater on Sunday, May 7, 2017. The organization's three full orchestras and string-training orchestra will be featured as they showcase their talent and growth. The Season Finale Concert will highlight pieces by Elgar, Verdi, and more. In addition, forty graduating seniors will be recognized as they leave the orchestra to reach new heights as musicians and individuals.
Although this is the organization's 60th year, it has been a year of firsts for FSYO. Under the direction of new Music Director, Hanrich Claassen, the organization has explored new performance opportunities for its students, which has led to an abundance of new collaborations. This season, FSYO ensembles have had the opportunity to explore the different aspects of life as a professional musician - playing behind choirs, instrumental and vocal soloists, dancers, and the UCF Opera company.
This concert will be no different. In tune with the spirit of collaboration and as a special treat to cap off the 60th anniversary season, over 30 FSYO Alumni will join the Symphonic Orchestra for the final piece of the season, Romanian Rhapsody No. 1 in A major by George Enescu.
The concert will begin at 4:00 PM. Tickets are available through the FSYO website (www.fsyo.org), and range from $10 to $20. All educators receive free admission to this and all FSYO season subscription concerts!
About FSYO: The Florida Symphony Youth Orchestra aims to educate and inspire Central Florida's top young musicians through programs committed to strengthening musical talents and developing appreciation of the arts through classical music. The FSYO, in its 60th Concert Season, comprises three full orchestras, one string training orchestra and an advanced chamber ensemble, made up of more than 250 students from nine Central Florida counties, including Orange, Osceola, Lee, Seminole, Brevard, Lake, Highlands and Volusia. Programs are sponsored in part by the Florida Department of State, Division of Cultural Affairs; the Florida Council on Arts and Culture; Orlando Utilities Commission; and United Arts of Central Florida. We thank these groups for their generous support.
Learn more: web: www.fsyo.org | FB: Florida Symphony Youth Orchestra | Twitter: @FSYO | IG: @F_S_Y_O | Youtube: @fsyo