Many graduates from the FSYO go on to pursue careers in professional music, as they play with the nation's top orchestras or teach our nation's youth in the classroom. Additionally, our alumni hold leading positions in medicine, law and business, with a few playing a role in the life of the FSYO today. The leadership, thoughtfulness and independence learned through music education will help guide our students throughout their lives.
To recieve information on upcomming FSYO Alumni events please email: This email address is being protected from spambots. You need JavaScript enabled to view it. .
Spotlight: FSYO Alumni Arup Guha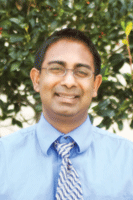 Arup grew up in Central Florida, attending Dommerich Elementary, where Doris Hotaling introduced him to the violin via the Suzuki Program. After completing the Suzuki program, he auditioned and joined FSYO for all of middle and high school. Rehearsals instilled discipline, gave him an appreciation for team work, and make him appreciate classical music.
Arup attended MIT for college, majoring in computer science and mathematics. While he chose not to continue playing the violin while he was at college, during his undergrad studies he picked back up his violin and played in a string orchestra.
Upon finishing graduate school, Arup returned to Orlando to teach at both UCF and Winter Park High School. Due to the demands of both jobs, he stopped playing once again. He showed interest in classical music by becoming a season ticket holder for the Orlando Philharmonic. For one year, motivated by my student, Andrea Yang, who was a brilliant violinist, I played for UCF's orchestra. Since that time, Arup has attended OPO and FSYO concerts and served on the board for FSYO for three years. Arup came out of retirement on his wedding day to play a song for his wife, composed by FSYO conductor John Dupuis.
"FSYO gave me a great appreciation for classical music while instilling in me both discipline and team work that has proven invaluable in my adult life."- Arup Guha
---