For Immediate Release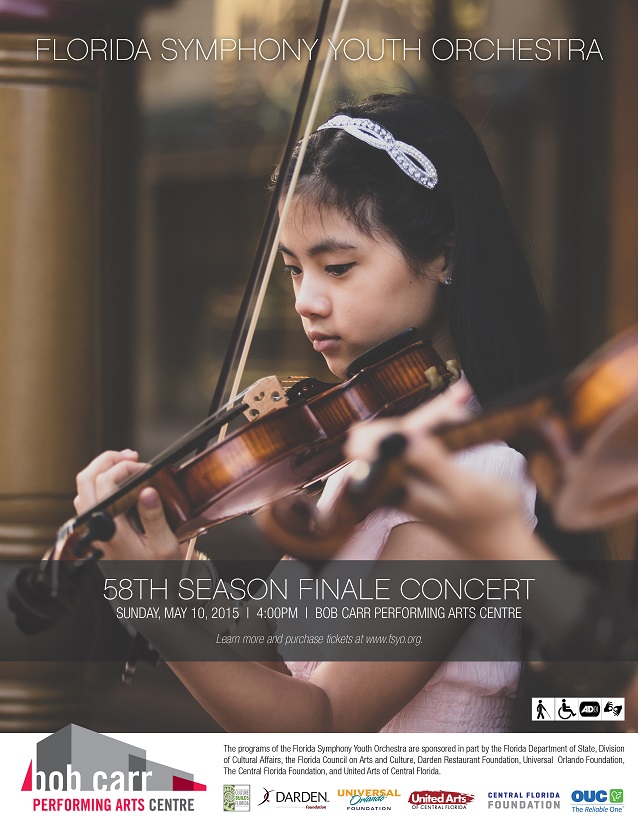 Orlando, Fla. – The Florida Symphony Youth Orchestra is excited to celebrate the closing of another outstanding season with the 58th Season Finale Concert, taking place Sunday, May 10, 2015, 4:00PM, at the historic Bob Carr Theater. All four of the organization's ensembles will be performing and twenty-five graduating seniors will be recognized for their dedication to FSYO and their passion for music development.
Taking the stage for her FSYO solo debut is the Symphonic Orchestra's principal flutist, Ms. Jessica Chancey. Jessica is one of three winners from this season's concerto competition and will be performing Doppler's Fantaisie Pastorale Hongroise. When asked why she chose this piece, Jessica replied, "I feel that it's a challenging yet fun piece to play. It starts out very lyrical and almost hypnotic, then the mood changes and it becomes more enthusiastic. "Hongroise" translated means "Hungarian" and I really love the ethnic Hungarian flavor of the piece throughout." Jessica hopes to become a Professional Orchestral Musician and is well on her way: attending the prestigious and competitive Tanglewood Institute this summer and beginning her undergraduate studies at the Cleveland Institute of Music in the fall.
FSYO will also host a silent auction to take place during the event, featuring items from some of Central Florida's best restaurant, retail and entertainment venues, including special Mother's Day items perfect for that special woman in your life. Proceeds will serve to support and enhance the opportunities FSYO can offer to nurture the talents of young musicians throughout Central Florida. Doors will open at 2:30pm for silent auction viewing/bidding. Bidding will also take place at intermission.
With so much to be excited about, this concert also comes with an air of sadness as this will be the final performance with FSYO's out-going music director, Mr. Andrew Lane. Mr. Lane, who has served the FSYO as Music Director since 1998, began his time with the organization in 1994 as conductor of the Philharmonia Orchestra. We thank Mr. Lane for his passion for music and relentless focus on student engagement, which have helped to establish FSYO as a leader in the Central Florida Arts Community.
The concert will begin at 4 p.m. at the Bob Carr Performing Arts Centre, 401 W Livingston St, Downtown Orlando on Sunday, May 10, 2015. Tickets range from $8.00 to $16.00 and can be purchased via www.fsyo.org. As usual, all teachers receive free admission to this and all FSYO concerts.
About Jessica Chancey: For more information about Jessica please go to http://fsyo.org/index.php/blog/12-blog/177-day-in-the-life-jessica-chancey
About FSYO:The Florida Symphony Youth Orchestra aims to educate and inspire Central Florida's top young musicians via programs committed to strengthening musical talents and developing appreciation of the arts through classical music. The FSYO, in its 58th Concert Season, comprises three full orchestras, one string training orchestra and various chamber groups, made up of more than 250 students from nine Central Florida counties, including Orange, Osceola, Lee, Seminole, Brevard, Lake, Highlands, Polk and Volusia. Programs are sponsored in part by the Florida Department of State, Division of Cultural Affairs; the Florida Council on Arts and Culture; Darden Restaurant Foundation; Universal Orlando Foundation; The Central Florida Foundation and United Arts of Central Florida. We thank these groups for their generous support. The FSYO is a non-profit 501(c)(3) charitable organization. For more information, please visit www.fsyo.org | facebook.com/THEFSYO | @fsyo