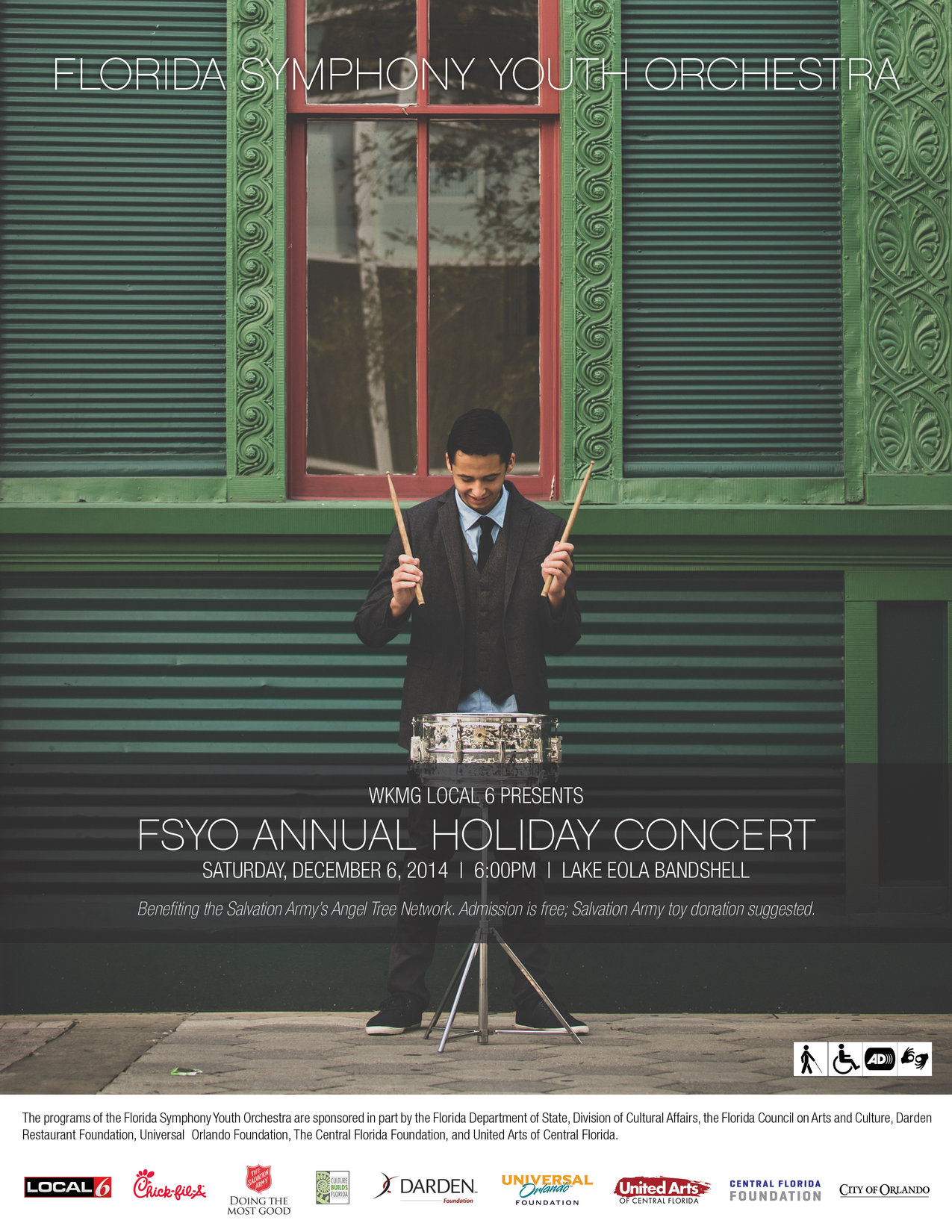 For Immediate Release
ORLANDO, FL– On Saturday, December 6th, 2014, the Florida Symphony Youth Orchestra will once again join forces with WMKG Local 6 and the City of Orlando to present the fourth annual WKMG Local 6 Holiday Concert. The concert will feature the FSYO orchestras and will serve to benefit the Salvation Army's Angel Tree Network. In past seasons, attendees contributed $600 in Salvation Army Red Kettle donations and over 160 gifts for children in need.
Hosted by WKMG Local 6 talent, and featuring FSYO's four award winning youth orchestras, this concert will ring in the holiday season with sing-a-longs, Yule-tide cheer and a very special ho-ho-holiday guest. The concert will begin at 6 p.m. at the Lake Eola Band Shell, 195 N Rosalind Avenue, in Downtown Orlando and is free to the public; however in keeping with the spirit of the season, and in support of The Salvation Army's Angel Tree Network, the FSYO kindly asks attendees to bring a new toy or new clothing item for donation.
ABOUT: The Florida Symphony Youth Orchestra aims to educate and inspire Central Florida's top young musicians through programs committed to strengthening musical talents and developing appreciation of the arts through classical music. The FSYO, in its 58th Concert Season, comprises three full orchestras and one string training orchestra made up of more than 250 students from eight Central Florida counties. The FSYO is a non-profit 501(c)(3) charitable organization. For more information, please visit www.fsyo.org.
ABOUT: WKMG Local 6 is one of the foremost television stations in the Central Florida area. Serving nine counties, WKMG Local 6 provides award-winning daily-newscasts, in-depth investigations, local entertainment and network programming to the community. Known for being Central Florida's first television station, Local 6 has received numerous accolades for their work including the prestigious Edward R. Murrow Award and multiple Emmy and Associated Press awards. Owned by Post-Newsweek Stations, Inc., a division of the Washington Post Company, WKMG Local 6 is Central Florida's source for CBS. Local 6 serves the public through the Good Neighbor 6 community outreach program, bringing important, life-saving information to Central Floridians through special events and programming. Additionally, Local 6 exclusively broadcasts RetroTV, which brings viewers all their favorite television classics. Visit clickorlando.com for continuous updates on local news, weather & sports.