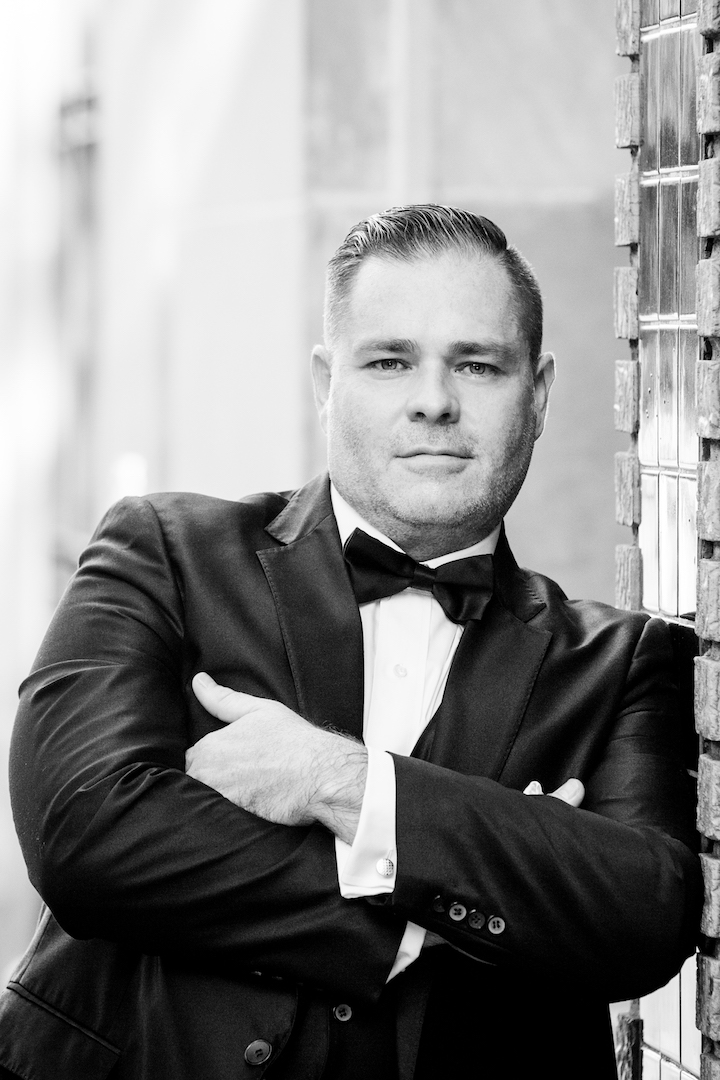 How old were you when you began playing music?
I was 6 when I started piano lessons, 7 when I started playing the violin. I switched form violin to the cello at 9.
Did you always know you wanted to lead an orchestra? What was your career/education path to get here?
No - I wanted to be a répétiteur - both my parents were opera singers and I grew up sight-reading songs and arias for my mother for fun; I guess it felt like a natural choice to continue working with singers and getting more into the coaching side of things. I was always around lots of singers singing opera - I went to the theater while my parents were rehearsing or teaching at home and really grew to love this art form. I wanted to be part of the process of creating and molding singers preparing for a specific role. I also love the German art song repertoire (Lieder) and would have loved being a full-time accompanist. I studied piano and cello pre graduate degrees, but towards the end of my third year, it became clear that I rather wanted to be an orchestra musician. I was already working professionally substituting in a various orchestras while I finished my pre-graduate studies, so that made me decide to pursue post-graduate studies in cello alone. I am so grateful for the piano skills I have though, as it has served me so well over the years as cello teacher and of course, as a conductor too. Directly after finishing my first post-graduate degree I won a seat in the Cape Town Philharmonic, where I lived at the time and actually thought this would be what I do for life. After 5 years of playing and experiencing some burn-out I decided to take a break and pursue a teaching career, which has lead me to conducting. While living in Saudi Arabia I started conducting some smaller ensembles and this continued in Shanghai, while working for the American International School. I slowly started working with professional ensembles there as cellist, and purely by chance one day I was asked last-minute to conduct a work that just didn't come together in rehearsals. This was with the Shanghai Baroque Ensemble - after that concert I pretty much always played cello for half of their concerts, and conducted the ensemble for the rest. I loved it! I studied with various conductors in Shanghai, back in Cape Town and in Italy over holidays and at masterclasses and conducting competitions. Like any skill you want to be good at, I still work at it daily - trying to find more ways of being expressive yet clear in gesture and body language. There are so many things at play while conducting an ensemble... it's fascinating!
What is your primary instrument?
Cello
What's the best advice you received when you were a young musician?
My parents both gave me hours of advice, but also my biggest influence probably was Albie van Schalkwyk, my piano professor and one of the most magical musicians and accompanist I have ever had to pleasure to work with and learn from - a true mentor. Work hard - harder than anyone else around you; become the best musician you can be - listen, always listen; be open - to change, to new things and new music, new people, new cultures, and try hard - always try hard! Be versatile as a musician - be open to adapt to whatever situation. The time is 'now' - don't wait - don't ever wait to make beautiful music or practice or play softly or follow the composer's markings - do it 'now.' Love what you do, and be passionate about it!
What advice would you give ​FSYO students, or young people thinking of auditioning for ​FSYO?
I guess all of the advice I got and that has served me well, but also, don't be afraid to try - don't put off auditioning now, because you think you might be more ready next year. In a year from now, things might be different and you might have missed out on a year's worth of amazing musical experiences. FSYO provides such an important opportunity to 'belong' to something unique, and for your uniqueness to find company in fellow-musicians that look at the world maybe a little differently than your general classmates at school. We really are a big family that care and look after each other, while inspiring and pushing you to become the best musician you can be!
If you weren't a conductor, what career would you want to try?
I pilot or a professional deep sea diver - both professions that would lead me to see new and wonderful things and places!
What's something fun about you that most people don't know?
I have run three half-marathons, one of which was the Great Wall race in China, more than half of the race happens on the actual great wall of China! I am a Padi qualified Advanced Open Water diver and have gone diving in many exciting places - Greece, Bali, Jordan, Saudi Arabia, Bahrain, Thailand, Cyprus, to name a few...