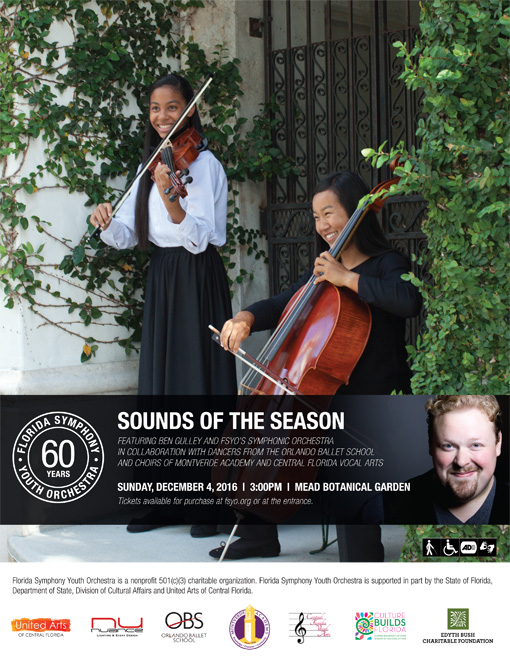 On December 4th, the Florida Symphony Youth Orchestra's Symphonic Orchestra will help you kick off your holidays with Sounds of the Season. This concert will bring everyone together for an afternoon picnic accompanied by an array of holiday classical pieces and exciting collaborations with local arts organizations and American operatic tenor, Ben Gulley.
Hailed as "an outstanding tenor" (Opera News) and "startlingly-gifted" (San Francisco Classical Voice), Ben Gulley, will take the stage with FSYO to perform renditions of Holy Night, The Prayer, and From a Festival of Carols: A Christmas Processional, backed by the singers of Central Florida Vocal Arts and Montverde Academy. Gulley has performed both nationally and internationally, with a variety of ensembles and artists, including numerous crossover concerts and events with mainstream artists and entertainers such as David Foster, Natalie Cole, Brenna Whitaker, Blues Traveler, SNL alumni Darryl Hammond, and others. In addition to an outstanding vocal performance, scenes from the Nutcracker Suite will be brought to life by the graceful young talent of the Orlando Ballet School.
"This, our 60th season, is a year of new collaborations for FSYO. We are very excited to be working with such wonderful artists, both local and national, for this festive occasion. This is a great opportunity for our students to experience their music as a part of a larger production and for our audiences to experience the great arts programs that Central Florida has to offer." - Heide Evans Waldron, FSYO Executive Director
The concert will begin at 3:00 p.m. at the The Grove at Mead Botanical Gardens - 1500 S Denning Dr, Winter Park, FL 32789. Tickets range from $10 to $20, and can be purchased at www.fsyo.org. As always, teachers receive free admission to this and all FSYO events.
ABOUT FSYO: The Florida Symphony Youth Orchestra aims to educate and inspire Central Florida's top young musicians through programs committed to strengthening musical talents and developing appreciation of the arts through classical music. The FSYO, in its 60th Concert Season, comprises three full orchestras, one string training orchestra and an advanced chamber ensemble, made up of more than 250 students from nine Central Florida counties, including Orange, Osceola, Lee, Seminole, Brevard, Lake, Highlands and Volusia. Programs are sponsored in part by the Florida Department of State, Division of Cultural Affairs; the Florida Council on Arts and Culture; Orlando Utilities Commission; and United Arts of Central Florida. We thank these groups for their generous support.
Learn more: web: www.fsyo.org | FB: Florida Symphony Youth Orchestra | Twitter: @FSYO | IG: @F_S_Y_O | Youtube: @fsyo
ABOUT BEN GULLEY: The American operatic tenor, Ben Gulley, has been hailed "as an outstanding tenor (Opera News) ... startlingly-gifted (San Francisco Classical Voice)." Mr. Gulley's career is burgeoning with lead and feature roles in opera, solo engagements, concert work, film work, nationwide touring, and prestigious appearances abroad. Mr. Gulley is the 2009 winner of the Metropolitan Opera's National Council District & Regional Competitions and a National Semi-Finalist. Recent engagements include appearances with the Chautauqua Opera as Edmondo in Manon Lescaut and Edgardo (cover) in Lucia di Lammermoor, Opera San Luis Obispo in a role debut as Tamino, his debut in I Puratani as Arturo with Minnesota Concert Opera, Cedar Rapids Opera as the fourth Jew in Salome (his first HD Broadcast), Borsa in the Lyric Opera of Kansas City's Rigoletto and as The Peasant in La fille du Regiment. For more information, visit http://gulleygranner.com/ben-gulley.
ABOUT MONTVERDE ACADEMY MUSIC CONSERVATORY: Montverde Academy Music Conservatory is a school unique in central Florida: a place where talented students advance their music skills, learn from highly trained educators, and have access to first-class facilities. Montverde Academy fosters an environment where students are challenged both academically and artistically, and the days are bursting with possibilities and enrichment. Students are encouraged, involved, and vested in their academic and musical education. They spend every school day under the tutelage of highly skilled professionals. Upon graduation, students are prepared for the rigors of any top-notch college, university, or conservatory of music. Our award winning program offers majors in piano, strings, voice and musical theatre. Just 20 minutes from downtown Orlando with access to all of the best and most diverse performers and venues the area has to offer, the Montverde Academy Music Conservatory has its fingers on the arts pulse of Central Florida. For more informaiton, visit www.http://montverde.org/
ABOUT ORLANDO BALLET SCHOOL: Orlando Ballet School is regarded as one of the finest training academies in the world and is the official school of the Orlando Ballet. The school has been named "Outstanding School" at the New York finals of Youth America Grand Prix three times. With three locations in Central Florida, Orlando Ballet School adheres to the American Ballet Theatre® National Training curriculum and our American Ballet Theatre® certified teachers provide disciplined training for dancers of all ages. For more information, visit http://orlandoballet.org/education-training/school/.
ABOUT CENTRAL FLORIDA VOCAL ARTS: An important part of Central Florida Vocal Arts' mission is to train the artists of tomorrow. We have established two initiatives to provide training opportunities for future artists. The first initiative, our Bel Canto Scholarship fund is a year round opportunity offered to students who show promise in the arts and can establish a financial need. The second initiative, our Summer Institutes, train artists in all aspects of the performing arts including voice, dance, acting, technical production, script writing, set construction, audition preparation and more. For more information, visit http://www.centralfloridavocalarts.com/.